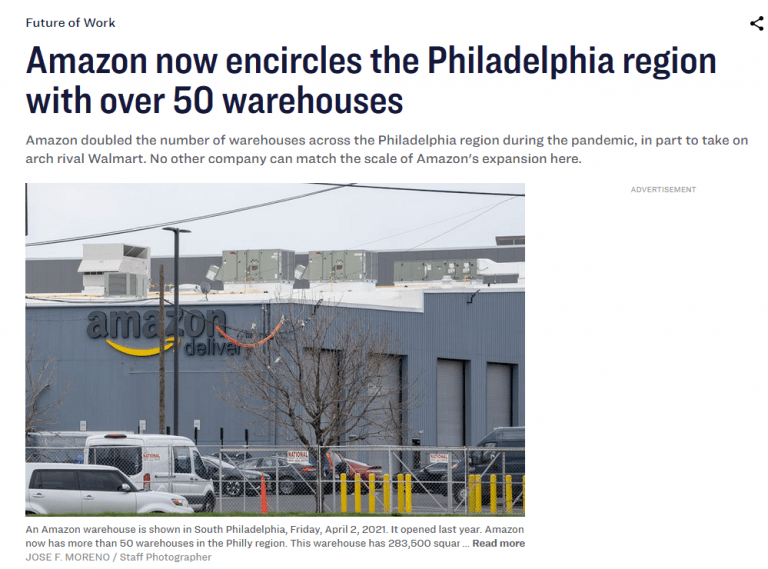 This recent report from the Philadelphia Inquirer, about Amazon's massive build-out of mega warehouses going on right in the Freight Forum team's backyard, provides a useful point of reflection for the entire freight community.
While this article focuses on Amazon's employment impacts, the news that there are now 57 warehouses, existing or under construction, packed around the congested I-95 corridor, aroused our curiosity.
How many of these warehouses are rail-served? The answer, as far as we can tell, is "zero." It's a modal choice that exemplifies  Amazon's national logistics orientation.
It's clear that Amazon, a market leader and well-respected supply-chain innovator, a company now nationally advertising its goal of "net zero carbon by 2040," opted out of the continent's freight rail system. 
The next question would be "Does Amazon's modal choice matter to anyone but Amazon?" Answering that question demands a grasp of Amazon's scale. Its fast-growing logistics business is no less "mega" than the dizzying size of their warehouses. In terms of sheer volume: Amazon handled 5.1 billion packages in the fourth quarter of 2020. That figure has it neck-and-neck with UPS's nearly 5.3 billion packages. So yes, we know that logistics activity at that level produces impacts that will be felt by many.
It would be instructive to understand why Amazon's team of experts directed one of America's biggest, most dynamic, and now sustainability-oriented shippers, to shun rail. Lacking the fly-on-the-wall perspective from inside the Amazon C-suites, a reasonable guess can be postulated. Teams of  intelligent logistics planners sought to align their modal choice of freight transportation with the company's objectives. The sum total of that process? They apparently concluded that adding tens of thousands of diesel and electric trucks to our congested highway system is a better solution than to risk dependency on our nation's rail operations – in spite of rail's numerous efficiencies.
Amazon and rail industry shin-kicking is not the point here. In terms of logistics strategies, Amazon's choice is not an anomaly. As we reflect on the Amazon team's conclusion, we are called to grapple with its long-term effects on our continent, our planet, our children.
More precisely, we must address what we are building:  A North American landscape teeming with freight activity guided by tens of thousands of economic actors, each siloed, making  independent decisions regarding site locations and freight modes. Does that sound like a recipe for an efficient, productive, low-impact network?
A new era of coordination and collaboration is needed. That's what the Freight Forum is all about.